Disclosure: I got this product as part of an advertorial.
Since I am a bit of a treehugger, I love products that are designed to promote eco-friendly goals. I was very happy to review Eco-Friendly Party Favor Herb and Shaped Crayons with Seeded Paper .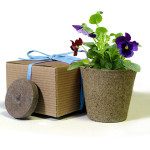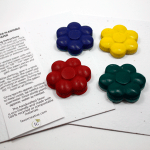 I generally find favors to be peculiar. They can be cute but do people really keep them around? If they aren't food I suspect many get tossed away a few days after the event. It seems pretty wasteful to me. However, favors like these are a lot more interesting.
First- the crayons. Of course my daughter loves to color, so it was a pretty easy sell to ask her to color with these. There were OOOHHHHS and AHHHHHHS when she realized they weren't just pretty little tie-dye colored flowers, but crayons. YIPPEEE!
I like the hardness of the flowers. They are going to hold up to her grubby little paws, and they did not melt in my mailbox. It has been in the 90s here, so I was a little concerned. No issues. There are even other shapes and colors you can choose. I would stick with these though, they are really pretty!
The packaging was cute and festive.
It includes some seed paper. This I imagine can be used at the wedding to form some sort of message collage, or simply taken home for the guest. It is a great way to keep thinking of the event long after it is over!
The party herb favor was also super cute. I have not planted it yet, but I suspect we will have fun as a family watering it every day and watching it grow. A really nice idea.
According to the website:
"100% Biodegradeable
This herb favor comes in a 100% recycled favor box – inside the box is a 2″ biodegradable pot, a soil pellet, instructions for planting and organic herb seeds of your choice. We offer 14 different herbs/flowers. Use them for cooking, teas and enjoy the fun of watching them grow!"
I like this idea a lot! Growing your own plants to eat or just enjoy is very satisfying. Right now, the leading bee experts are saying that the best way we can help the bees is to plant flowering plants to feed them. This is a fantastic way to contribute.
The next time I throw a party like a birthday or other celebration, I could easily see myself looking here for some inspiration on favors. They really have changed my ideas about favors!
To get your own favors for sampling- enter the contest!
a Rafflecopter giveaway
I received one or more of the products mentioned above for free using
Tomoson.com
. Regardless, I only recommend products or services I use personally and believe will be good for my readers.